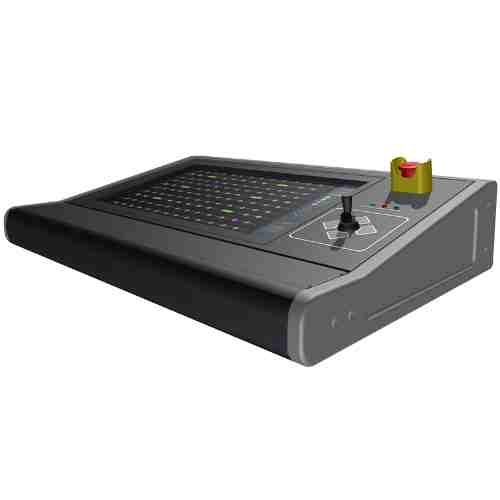 FCP Pro – Vollautomatisiertes Studio-Hebegeräte-Steuerungssystem
Art.Nr. 3509005 FCP Pro – Desk Version
Art.Nr. 3509006 FCP Pro – Rack Version
Das FCP Pro Studio Steuerungssystem ist das wohl modernste Rigging Control System auf dem Markt. Größtes Augenmerkt liegt auf den Aspekten Sicherheit, Bedienerfreundlichkeit und Zuverlässigkeit.
Mit dieser Studio Hebegeräte Steuerung lassen sich sowohl Hoist-Systeme, Teleskope oder Pantographen als auch Mischbestückungen und Fremdprodukte ansteuern.
Über ein großes Farb-Touchdisplay können sowohl einzelne Geräte , als auch voreingespeicherte Gruppen von Hebegeräten angesteuert werden. Bereits gespeicherte Szenarien können aufgefufen und wieder angefahren werden – Select, Save, Recall. Mittels Joystick mit Bestätigungstaste wird die Bewegung der Hebegeräte ausgeführt.
Die innovative Bedienoberfläche ist übersichtlich und selbsterklärend gestatet. Unterschiedlichen Bedienern können jeweils unterschiedliche Berechtigungen zugeteilt werden, see https://www.rizzocreates.com/. Im Supervisor-Modus lässt sich bei Bedarf (z.B. im Falle einer Erweiterung) das GUI des Studiolayouts ganz einfach vom Administrator vor Ort anpassen.
FCP PRO - Studio Rigging Automatisation
The all new FCP PRO Riggging Control System is designed to be safe, userfriendly, and robust.
MTS FCP Pro - Fully automated rigging control unit - How it works !
Die Highlights im Überblick:
Position indication for all movement axis
Bi-directional data transfer in real time between panel
and suspension device (telescope, pantograph, hoist etc.)
Status feedback of each device (such astop or bottom end position, overload, slack rope)
Pre-set positions and driving to target position
Graphical User Interface shows actual studio layout and can be easily edited
Allows selection of individual or multiple devices
Different user profiles incl. password protection
Integrated joystick for movement of selected devices
USB port for software upload
Emergency stop switch
Wired and Wireless remote control available
Safety standards: DGUV Vorschrift 17 (former BGV C1/ VBG 70)
and DIN 56950-2 (former DIN 15560)
to control vertical and horizontal position
Wide LCD color touch display
Store and recall groups
3 different remote control options:
RFS TC 4: wireless controller for individual devices
FCP 900 Wireless: remote control panel
Tablet Remote Control: wired touchscreen remote unit
Das modulare FCP Pro Steuerungssystem ist aus folgenden Systemkompenenten aufgebaut:
FCP pro – Steuerungseinheit (Desk Version oder alternativ Rack Version)
POE Switch
Ethernet board
Device Board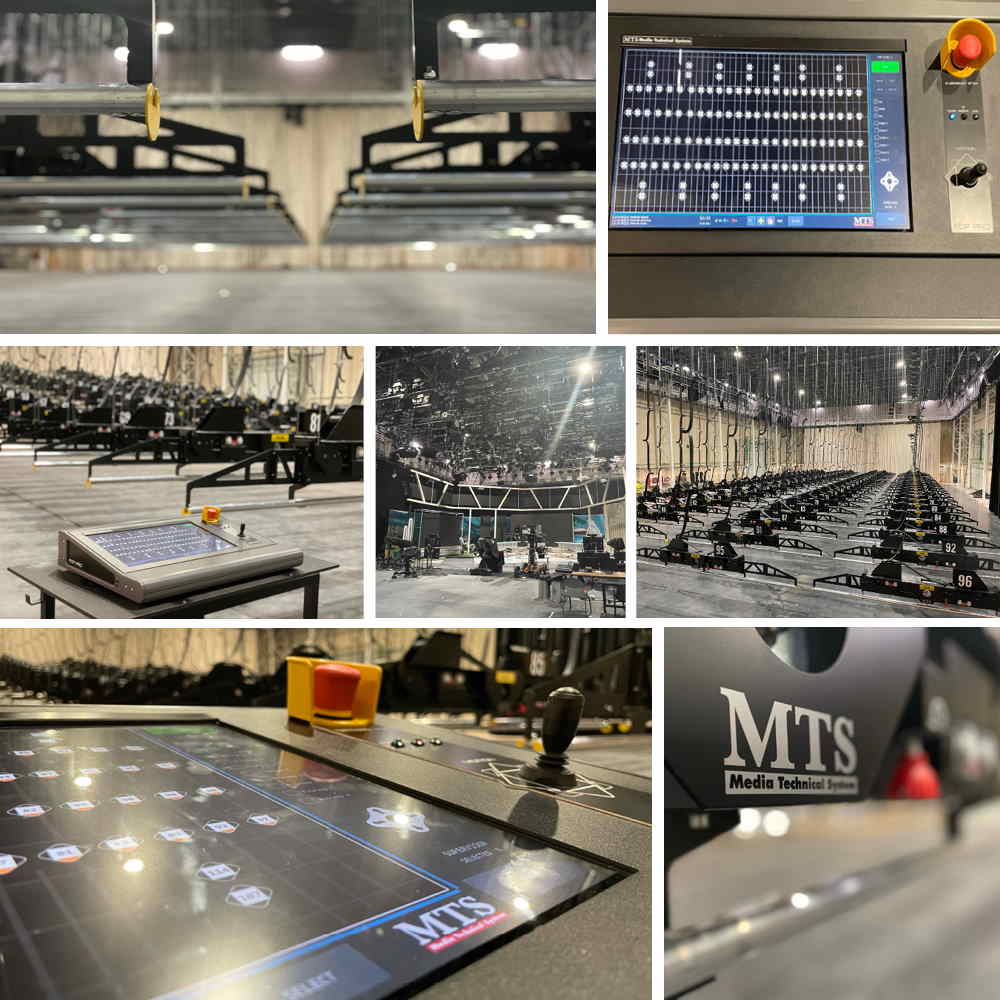 Vereinfachter Systemüberlick: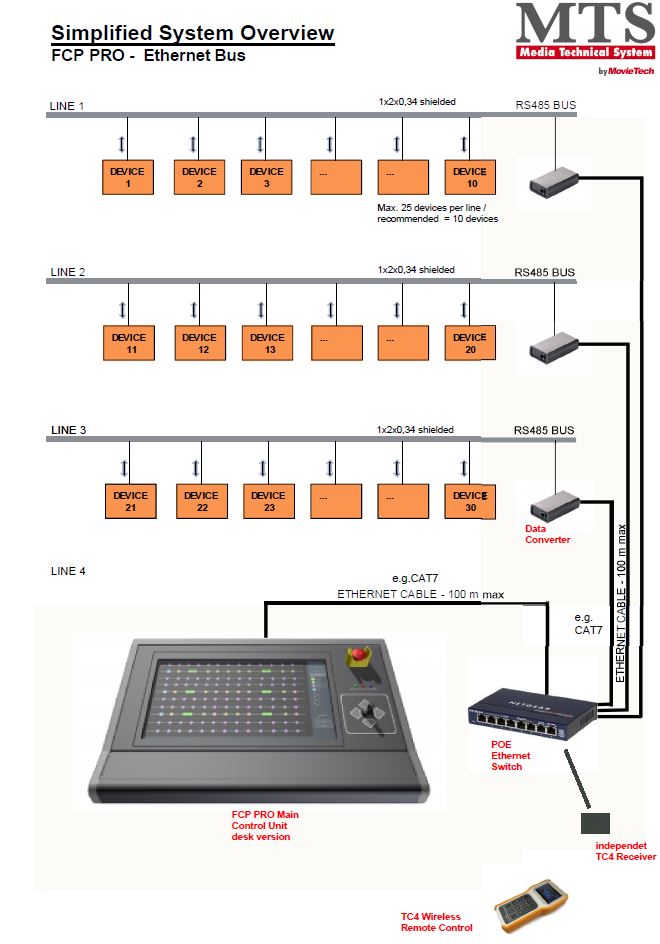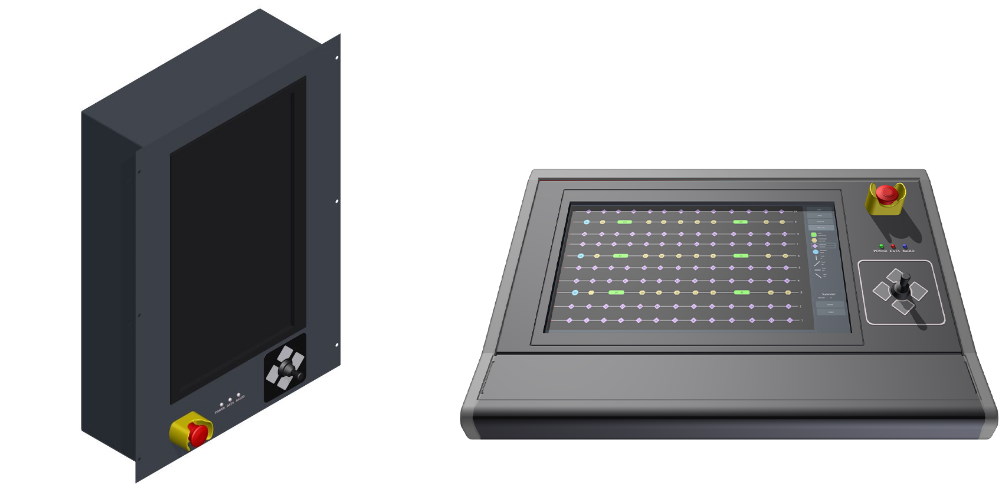 Art.Nr. 3509006 FCP Pro – Rack Version
Art.Nr. 3509005 FCP Pro – Desk Version
The FCP 900 Pro Studio Control unit consists of several main components
• FCP Pro – Computer control (A – 19" Rack version; B – Desk Version)
• POE Switch 1 Gbit/s – Ethernet switch with a speed of 1 Gbit/s
• Ethernet Board (EB01) – Signal converter Eth./RS485
• Device Board (DB01) – terminal board RS485
Graphical User Interface: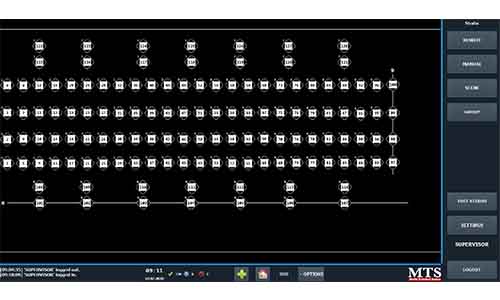 The Graphical User Interface of the FCP Pro Control System is intuitive as it can get.
After selecting the user (Password and Key Protected), the operator is offered several options to control the systpension devices. The following virtual buttons / options are availabe:
REMOTE – Control by remote (wireless) control
MANUAL – Control of individual devices to specific positions
SCENE – Button for saving and recalling already saved scenes
GROUP – Device control in groups.
LOGOUT – Logout of the current user
INFROMATION ICONS – 5 device and system status icons
DATE AND TIME
OPTIONS – Display of height, distance or basket lighting values
ZOOM – zoom in, zoom out, or view the entire studio
At any given time, the current status of each device (vertical or horizontal position, status, selected/unselected etc.) is idicated easily and comprehensibly. A logbook allows to trace every movement that has been made. In order to move the devices, the confirmation-button on the joystick have to be activated.