New MTS Factory in Lochenice Czech Republic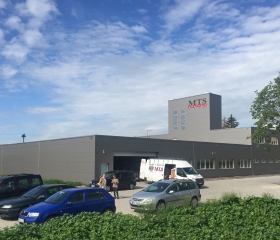 A few weeks ago, we moved the company MTS – Media Technical System to our new production building near Hradec Králové.
With a production area of about 2500 square meters, the new building offers enough space for studio projects of any size. On two independent 40 m long production lines, the MTS lifting units can be produced precisely and flexibly with minimal throughput times. In the 16 meter high test tower, up to three lifting devices are tested and adjusted simultaneously. In addition, all new developments can be thoroughly tested in the test tower. On the first floor there is an office space of 550m² as well as a fully equipped training and seminar room with direct access to the test tower.
Because we know how important precision, reliability and longevity in the studio technology are, the individual products are manufactured individually for each other. Our aim is always to supply high quality and technically perfect equipment to our customers.
Address:
MTS – Media Technical System
Lochenice 215 Okres Hradec Králové
CZ 50302