AS 4 – Top Rail System and Curtain Rail for Cyclorama
Item.Nr. 1000 000 – AS4 bright drawn
Item.Nr. 1010 000 – AS4 andonised
Rail system with top slot channels
The AS 4 rail system is the universal running rail for versatile use in the studio, on stage and elsewhere.
In many small studios and stages the versatile track system is used as a light grid. The weight-saving aluminium profile can also be anodised in black. Since the rail profile can be bent into varios radii, the profile is also ideally suited as a curtain rail or manual cyclorama. A wide range of accessories such as trolleys, rail connectors and assembly aids enable a wide range of applications.
The AS 4 is an aluminium system rail with low dead weight and high load capacity.
The upper groove channel provides a variety of fastening options.
Areas of application are in particular ceiling rails, traverses, load rails, curtain systems.
Top Rail System for lighting grid in smaller TV Studios, studio lighting grid, curtain rail for cycloramas.
Various Trolleys/Carriages
For the MTS AS4 rail system, a wide range of carriages is available. The standard carriage LW-AS4/ASAS4-2 fits both the MTS AS4 profile and the related AS4-2 profile. High-quality, smooth-running rollers ensure silent movement on the rail profile. A DIN TV sleeve (29mm) with captive safety bolt and locking device is used to support the load. In addition, an eyelet for attaching a safety rope is integrated. The carriage has a brake function, which can be tightened and released via an operating bell.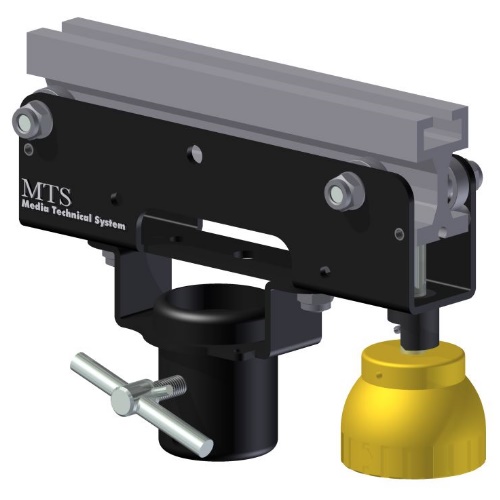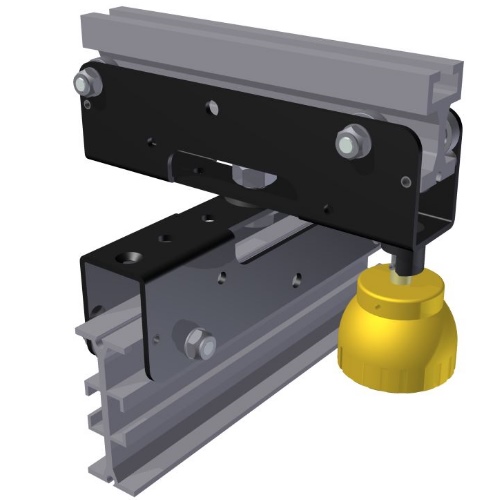 Ideal as light grid for smaller studios (e.g. IP-TV)
Das MTS Schienensystem wird sehr häufig in kleinen bis mittelgroßen Studios eingesetzt. Aufgrund geringer Deckenhöhen sind hier meist die Anforderungen an die Kompaktheit des Schienens besonders stark. Zudem wird duch das gewichtssparende Aluminium-Profil die Studio Decke nicht unnötig belastet.
In Verbindung mit dem Kreuzlaufwagen AS4/AS4-2 lassen sich somit flexible, leichte und kostengünstige Studiolösungen erarbeiten.
Die AS 4 Schiene dient hierbei als Trägerprofil und Laufschiene für den Kreuzlaufwagen. Im rechten Winkel dazu wird dann die AS 4-2 Schiene Integriert. In diese wiederum können dann je nach Anforderung weitere Laufwagen eingehängt werden
Ideal as manual curtain rail
Das MTS AS4 Schienen-Profil hat sich bereits in vielen Einsätzen als hervorragendes Vohangschienen-System bewährt. Aufgrund kunden-individueller Kurven-Radien, einer Vielzahl von verschiedenen Vorhang-Laufrollen und vielseitigem Montage-Zubehör eignet sich die AS 4 Schiene ideal zur Realisierung von Vorhang- und Cyclorama-Anwendungen. Auf Wunsch ist das Aluminium-Profil auch schwarz eloxiert erhältlich.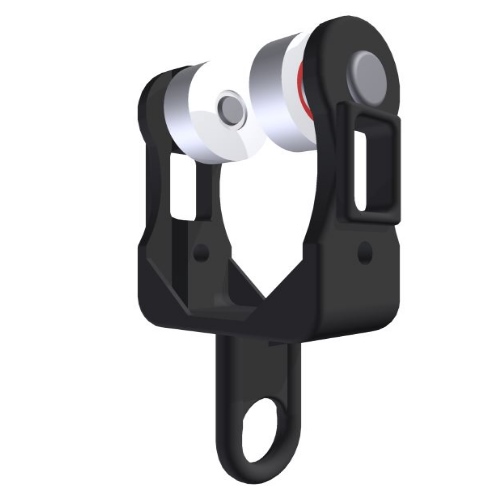 Do you need any help? Just contact our sales team for more information: