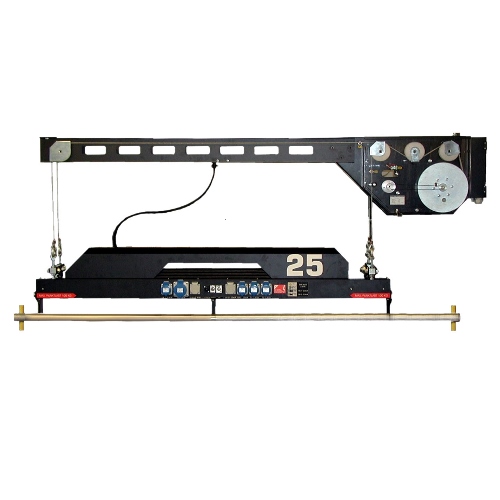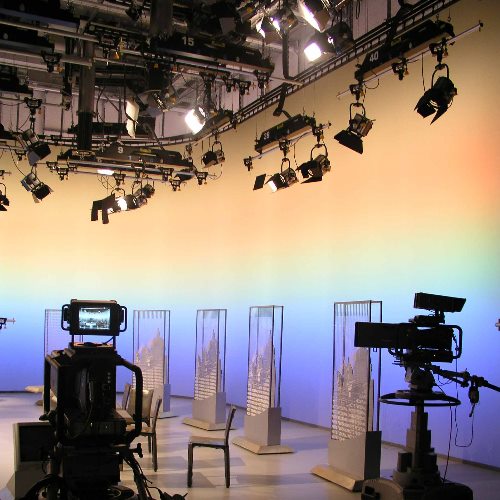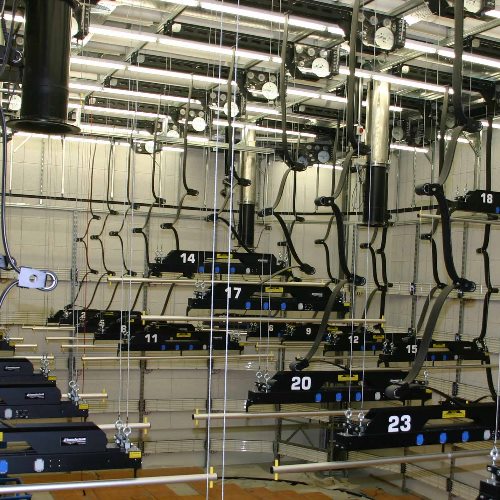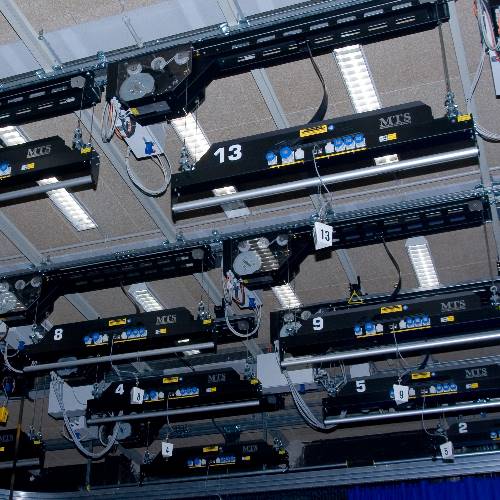 Grid Hoist SLP 1000B
Art.Nr. 319.100
Grid Hoist for Stage and Studio
The luminaire hanger with bobbin winding allows a safe and flexible positioning of the lighting-devices. The motor-unit is placed asymmetrical. The grid hoist (48.0 mm tube) serves to accommodate several headlights. The drive technology is housed in the upper part attached to the ceiling or the grid ceiling. 4 steel cables with a diameter of 4.0 mm support the load. The luminaire hanger is equipped with safety devices such as slack rope and rope break detection, as well as limit switches and emergency limit switches for the position at the top and at the bottom. The overload setting as well as all other service settings are easily adjustable from the outside. All maintenance points can be viewed and accessed without tools. The network connections and data lines for the lamps are fitted according to customer requirements.  The MTS FCP 900 is the standard control panel for these type of hoists; infrared or radio remote control are also available. The point load within the supporting cable area is equal to the payload.
The MTS devices fulfill all relevant safety regulations such as the stricktest german safety norms DGUV regulation 17 (formerly BGV C1, formerly VBG 70) as well as DIN 56950-2 (formerly DIN 15560)
Point-loadable hoist 

The motor unit remains on the ceiling – less shadowing
Dynamically self-locking gearbox
Slack rope / rope break detection per load carrying device
Operational and emergency limit switch (top and bottom)
up to 200 kg payload when equally distributed
DGUV regulation 17 (formerly BGV C1, former VBG 70) as well as DIN 56950-2 (formerly DIN 15560)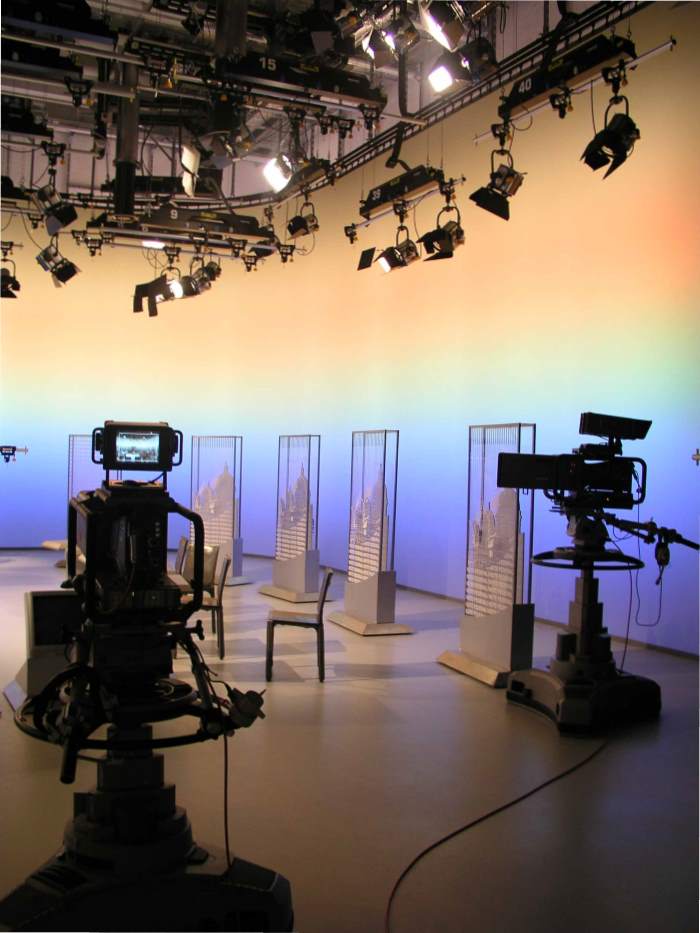 oad bar: 48.0 mm Ø 3000 mm

Overall length: 2000 mm

Liftt: up to max. 11000 mm

Hub: <>. 135 mm / sec

Motor: 230 / 400V; 50 Hz

Motor protection IP 54

Dead weight: <> 95 kg

Max. Payload: 100 kg

16A Schuko sockets and DMX XLR 5pol on request

Dynamically self-locking gearbox

Continuous lubrication from -30 to + 150 °

Slack rope break detection for each rope

Overload protection

Operating limit switch up / down Emergency up / down switch

Load bearing by means of clamps or pipe wagons

technical changes reserved.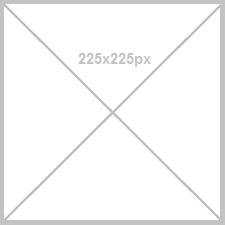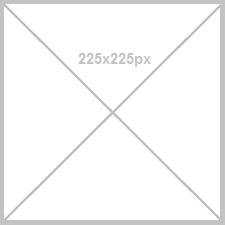 Do you need any help? Just contact our sales team for more information: