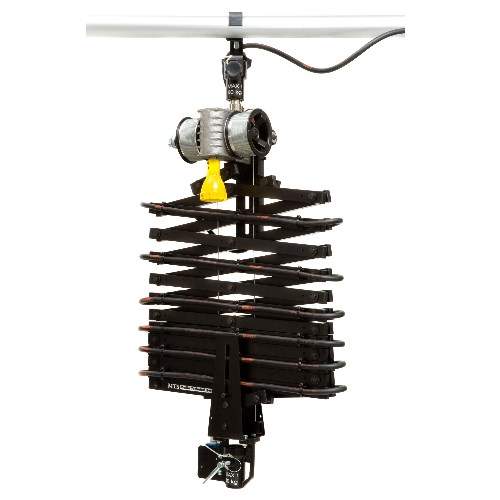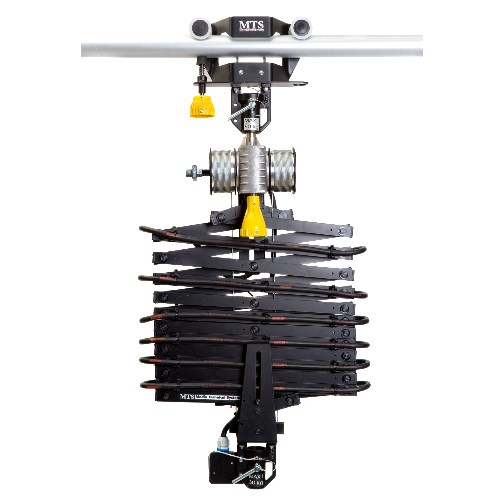 Manual pantographs SZM 25-60
SZM 25 – Art.Nr. 312.250 – 2,5m 30kg

SZM 40 – Art.Nr. 312.450 – 4m 30kg

SZM 50 – Art.Nr. 312.500 – 5m 30kg
SZM 60 – Art.Nr. 312.600 – 6m 30kg
Special lengths on request
Manual MTS pantographs
Through the use of pantographs, each luminaire can be individually controlled. This allows an enormous flexibility in the design of the light.
The MTS pantographs are made of aluminum rectangular profiles with particularly high mechanical strength and precision. In the retracted state, the overall height is minimized. The extension of the pantographs reaches up to 6m depending on the design. If a larger stroke is required, the use of MTS telescopes or MTS Hoist systems should be used.
The powder-coated scissors of the MTS pantographs ensure a maximum of stability. Two steel ropes with a diameter of 2.8 mm serve as support. The drive is self-locking, maintenance-free and technically oversized. The guide elements on the upper and lower holders of the scissors ensure precise pull-out and pull-in with minimal torsion and radial play. The large bending radius of the suspension system prevents wear and cable breakage. The power and data feed to the lower end of the pantograph is safely guided outside the scissors by and held in place via durable plastic clips. A Schuko connection is provided as standard, alternatively a CEE socked is available. In addition it is possible to proviede a DMX outlet at the lower end of the pantograph.
The load can be attatched via a standardized DIN TV capsule with eyelet for a safety cable. The manual pantographs can reliably lift and lower loads up to 30kg. A 28 mm DIN TV spigot is provided for the upper attachment. This allows the pantograph to be mounted to various trolleys.
The up/down movement of the pantographs can be induced via the bell by means of rod control (by hand or by machine).
The MTS pantographs fulfill all relevant safety regulations such as the stricktest german safety norms DGUV regulation 17 (formerly BGV C1, formerly VBG 70) as well as DIN 56950-2 (formerly DIN 15560)
The highlights at a glance
toolless maintainance; all maintainance points can be directly viewed
proven design
30kg payload
DIN TV spigot for upper attachement
in accordance to the strictest safety regulations DIN 56950-2 and DGUV V17
up to 6m drop
General advantages of panthographs
Flexibility through individual height adjustment of each headlight
low height in a retracted condition
economically
General disadvantages of pantographs
limited stroke (up to about 6000m)
Stroke length: up to max. 2500/4500/5000/6000 mm
Suportin cables: 2 x d = 2mm
Power outlet: 16 A Schuko socket (alternatively CEE 17)
max payload: 30 kg
Standard cable: 3x 2.5 mm²
DMX XLR 5 socket (optional)
Transmission: dynamically self-locking drice, 1:20
Upper attachment: DIN TV spigot, d = 28 mm
Load atachment: DIN TV socket, d = 29 mm
Operated via operating pole SBV or motorized pole MSB 400
safey standards: DGUV V17 (former BGV C1/ VBG 70) and DIN 56950-2 (former DIN 15560)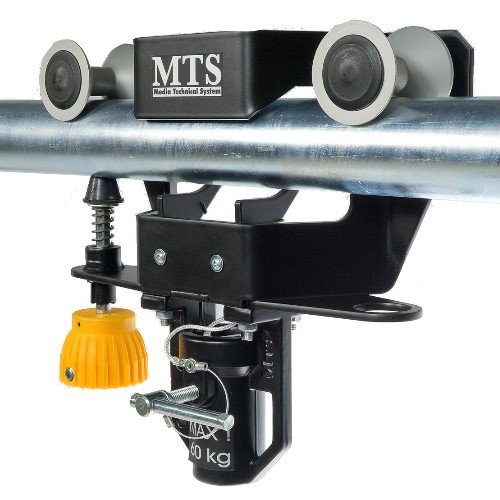 Art. Nr. 315.348 LW-R48
Art. Nr. 315.349 LW-R60
Art. Nr. 315.100 LW-IP 100
Art. Nr. 315.120 LW-IP 120
Art. Nr. 315.140 LW-IP 140
Art. Nr. 315.160 LW-IP 160
Art. Nr. 315.330 LW- H 100
Art. Nr. 315.332 LW- H 200
Art. Nr. 315.333 LW- H 300
Art. Nr. 315.340 LW- H 400
Art. Nr. 315.350 LW- H 500
Art. Nr. 315.360 LW- LAS1
Art. Nr. 315.370 LW- LAS1/2
Art. Nr. 315.335 LW- LASS2
Art. Nr. 315.300 LW- LASS3
Art. Nr. 315.365 LW- TV100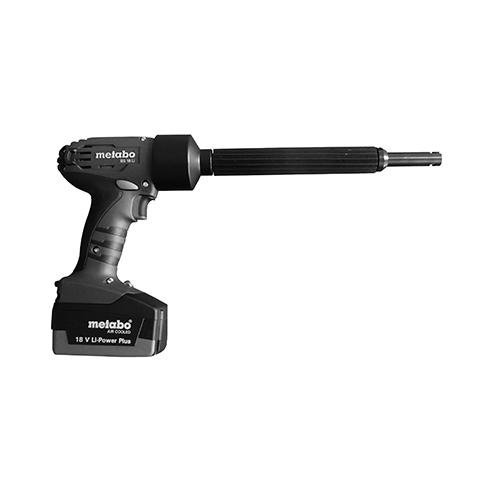 Art. Nr. 430.000 MSB 400 Power unit for rod control, adaptable for SBV system, without extension
Art. Nr. 430.001 SBV 100 (1m)
Art. Nr. 430.002 SBV 150 (1,5m)
Art. Nr. 430.003 SBV K Winch
Art. Nr. 430.004 SBV E Rod endng piece
Do you need any help? Just contact our sales team for more information: