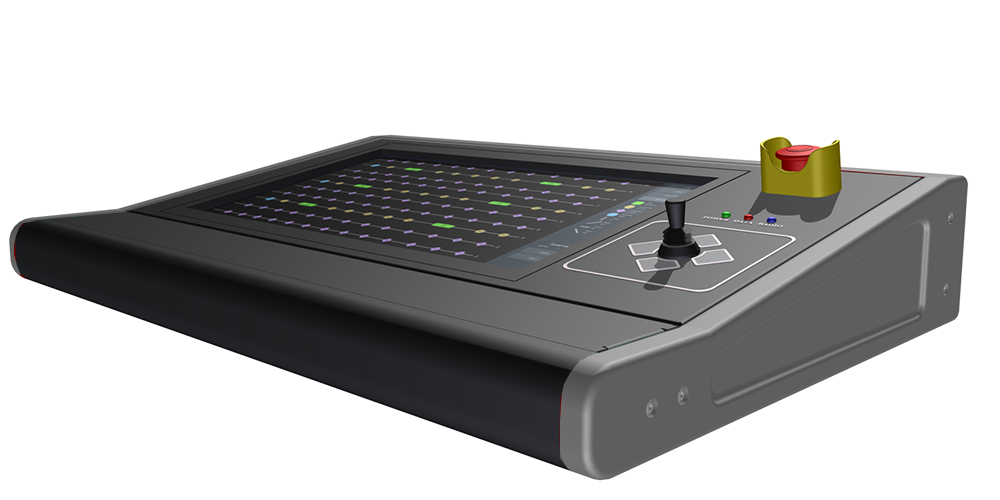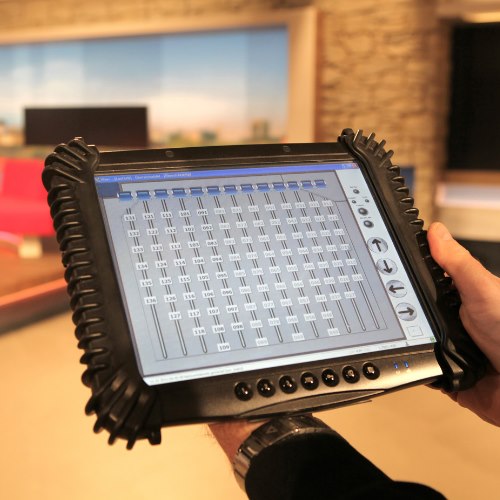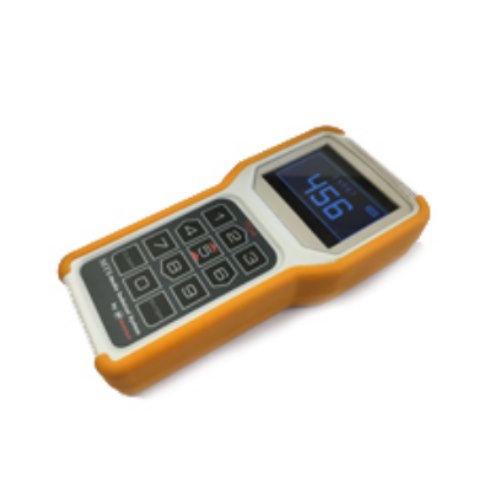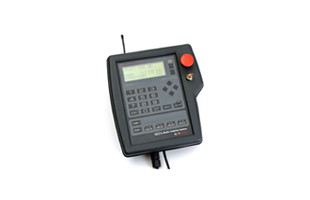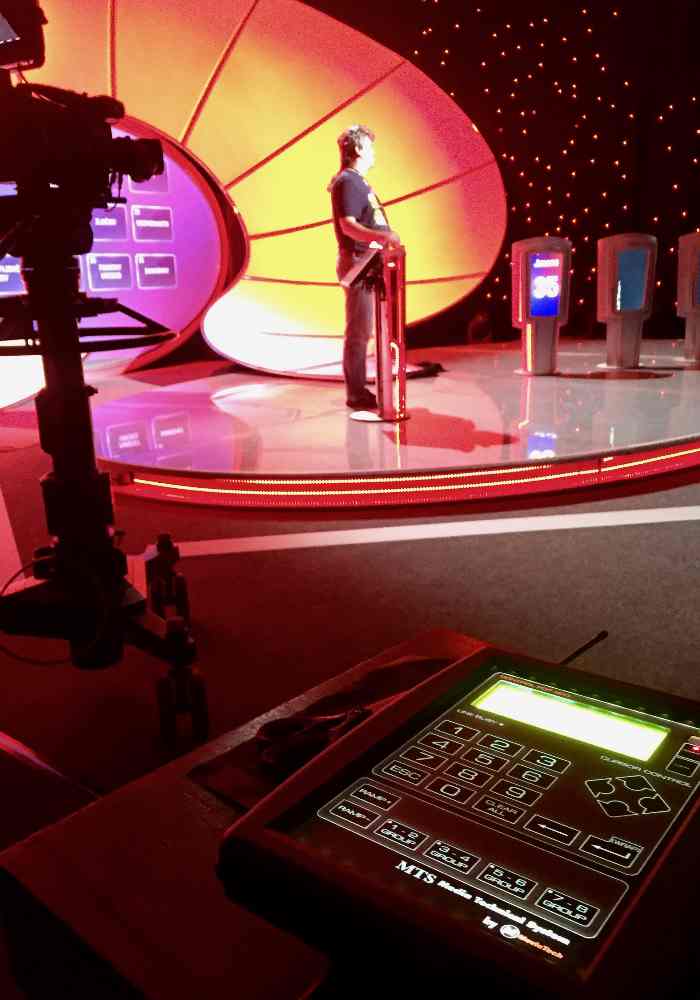 Control units for MTS stage- and studio rigging devices
Time is money – this is the motto of studio operations more than anywhere else. Effective and fast transitions between scenes are also in demand in stage technology. For both areas, the systems can be adapted quickly and easily using the various control and automation solutions developed by MTS Media Technical System.
MTS offers a wide range of control options for all types of rigging equipment. The portfolio ranges from simple remote controls for individual lifting devices over basic controls to fully automated studio control systems. The individually adaptable control unit can be fitted according to the respective requirements.
All control units communicate with the decentralized motor control electronics. These in turn are attached directly to the respective lifting device and equipped with the required function blocks.
Customer-specific system configurations enable the perfect control solution for every area of application.

FCP Pro Desk Version:
The "FCP PRO Desk Version" offers the highest level of automation of all MTS control solutions. The digital control unit has a large touch display on which the current studio layout can be adjusted as desired. Any number of lifting devices can be selected and operated clearly and safely.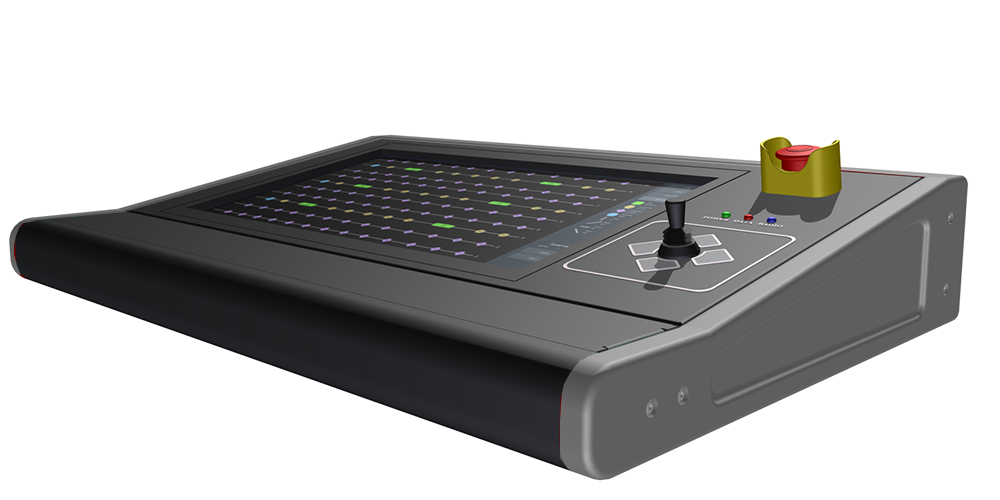 Features:
Graphical user interface shows the actual studio layout
Selection of individual devices or groups
Different user profiles with password protection
Integrated joystick with deadman function
USB port for software upload
Wired and wireless remote control available
emergency stop button
DGUV regulation 17 (previously BGV C1/ VBG 70) and DIN 56950-2 (previously DIN 15560)
for control of vertical and horizontal position
easy storage and recall of device groups
LCD touch display
For controlling various MTS lifting devices (such as pantographs, telescopes, hoist systems etc.)
Various optional remote controls
RFS TC 4: Radio remote control for individual lifting devices
FCP 900 Wireless: Wireless Control Panel
Tablet Remote Control: wired remote control with touch display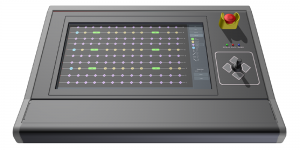 FCP 900 Studio Control Unit
Art.Nr. 350.900 – FCP 900 Wallpaneel
Art.Nr. 350.901 – FCP 900 19″ Rack Version
Art.Nr. 350.902 – FCP 900 WIRELESS   NEW !
The control system for all lighting suspension in studio and on stage
The FCP 900 control system allows to control all motorized MTS lifting devices. The control panel can be used to select individual lifting devices as well as storable groups with up to ten devices. The control panel is for studios in any size and up to 250 lifting devices (more upon request).
Both the touch keyboard and the display are brightly backlit.
In combination with the radio telecommander RFS-TC4, individual lifting device can be precisely positioned in the studio or on the stage.
The FCP 900 control panel is also available in a Wireless version!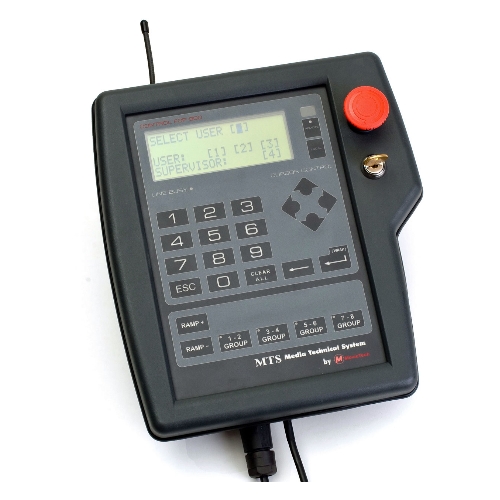 The FCP 900 control system allows to control all motorized MTS lifting devices. The control panel can be used to select individual lighting suspension devices as well as preset groups with up to ten devices.
In connection with the radio telecommander RFS-TC4 individual lighting suspension devices can also be positioned wirelessly in the studio or on the stage. With the "Remote" and "Local" function buttons you can choose between the operation via radio telecommander and stationary FCP 900.
The control panel can be protected against misuse by means of a key and a four-digit password. The movement of the lightning device is illustrated by an optical as well as an acoustic signal.
The control panel communicates with the respective motor control panels of the individual lightning devices by means of a propriotic protocol. The respective address is assigned by a simple rotary switch on the lighting device itself.
The scope of delivery of the FCP 900 control panel also includes a wall bracket on which the control unit can be suspended. From there, the control unit for adjusting the lighting devices can be conveniently placed in the hand.
Features:
bright illuminated display and keyboard
fully compliant with the strictest safety regulations DIN 56950-2 and DGUV V17
controls up to 250 lighting suspension devices
storable groups with up to 10 lifting devices
wired and wireless version available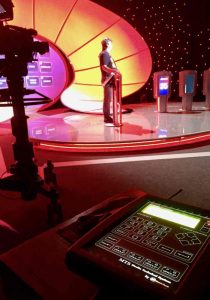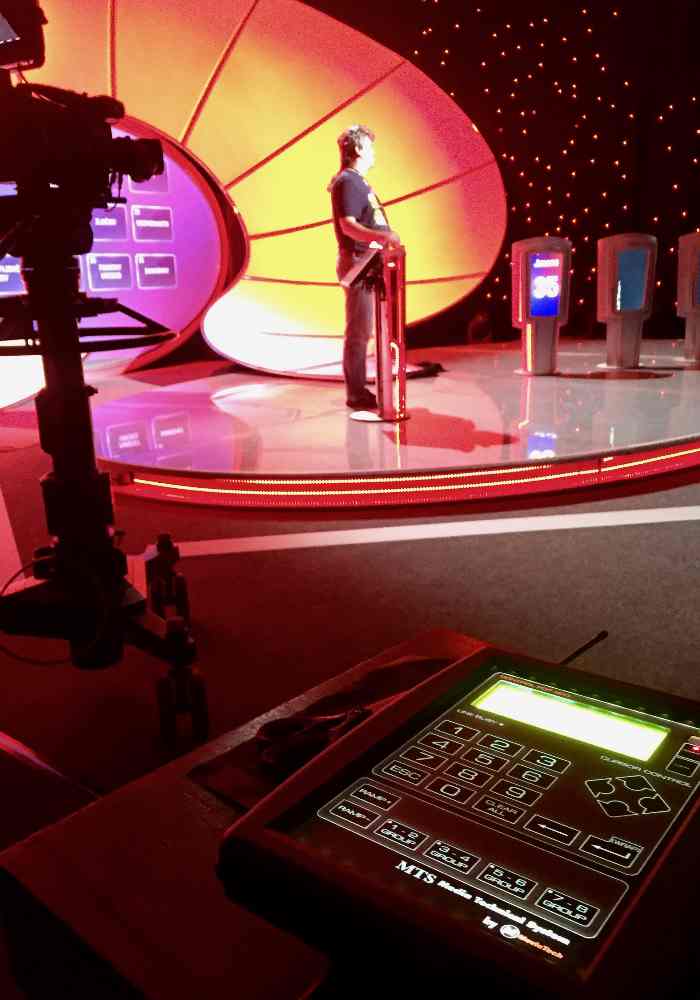 Item No. 350.021 – IRS-TC4 (Infrared signal)
Item No. 350.021 – RFS-TC4 (radio / radio signal)
Telecommander for light fittings and lifting devices !
With the Telecommander RFS and IRS luminaire hanger can be positioned precisely.
The lifting devices can be individually controlled via the well-readable display with a ten-key display. The input of a safety password as well as the integrated deadman switch protect the controller against incorrect operation.
The telecommander can communicate either directly or via the MTS – FCP 900 wall panel with the luminaire holders.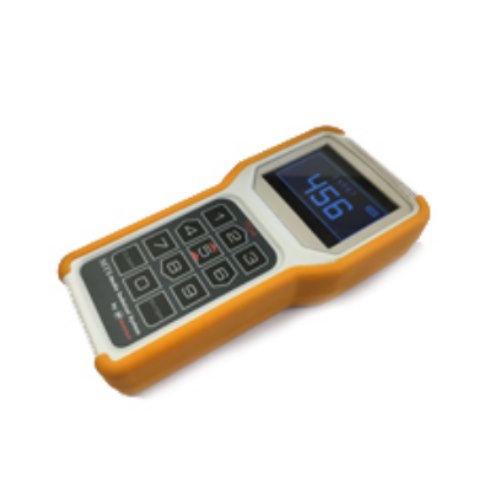 Features:
for controlling individual lifting devices
integrated deadman button
Breakage housing with anti-slip coating
Standard frequency: 434 MHz
Do you need any help? Just contact our sales team for more information: